Afterschool Art Workshops
Booking now open for Autumn 2019 afterschool workshops
The studio
Flying Fish studio is a beautiful space, created with relaxation, playfulness and freedom at its heart. In the studio, I create a supportive space where children are encouraged to experiment, and are free to imagine and create using lots of different media. I have been trained in Montessori education and run the afterschool workshops based on these principles - they are based on a child-centred approach, valuing the enjoyment of the process, having fun, and seeing where it takes each of us as individuals; where children are encouraged to grow as able and independent young people and take responsibility in caring for their environment.
What we do
We use materials such as clay, Lino, wool, glass and wax. We have the opportunity to use high quality materials and equipment used by professionals in the sector, including access to a printing press, and to have their glass creations fired in the studio's kiln.
As we arrive, we can help ourselves to drinks and snacks, and choose from a wide range of "chill-out" activities (this can include creating straight away if that's what we'd like). We start the group art activity at around 4:10pm. This allows us all to relax and our minds to have a bit of a rest after a busy day at school, but leaving us plenty of time to create!
We have a go at wet felting, glass, mixed media, mosaics, batik, needle felting, sewing, collage, quilling, mandalas, printmaking and more. To the right is a little taster of what we do here at the studio . . .
Details
Time: Arrival from 3:30pm - End of session 5:30pm. [Main art activity starts around 4:10pm and pick up is between 5:30 and 5:45].
Ages: 6 to 14.
Tuesdays - ages 6 to 10 years
Wednesdays - ages 9 to 14 years
Thursdays - ages 9 to 14 years
Dates: Booked on a half-termly basis. See dates below.
Cost: Varies depending on number of weeks [Works out as £17 per workshop]
Includes: All art materials and use of equipment. Snacks/drinks provided. Children have lots of choice in the art workshops that are run.
Dates for 2019
For children who would like to attend a 'one-off' afterschool workshop before committing to a half-term, trial sessions are available, at the normal price per session of £17. If you would like to book a 'trial session' please contact Hannah on 07453331418 or via email at flyingfishstudio22@gmail.com.
Summer (2)

Tuesdays - Seven weeks w/c 3rd June 2019 - w/c 23rd July 2019. Price: £119 PLEASE NOTE: There will not be a class on Tuesday 16th July 2019.

Wednesdays - Eight weeks w/c 3rd June 2019 - w/c 23rd July 2019. Price: £136

Thursdays - Seven weeks w/c 3rd June 2019 - w/c 16th July 2019. Price: £119

Autumn (1)

Tuesdays/Wednesdays/Thursdays - Eight weeks w/c 2nd September 2019 - w/c 21st October 2019. Price: £136
If half-term already started, your child can still join us! CONTACT Hannah on 07453331418 for booking (payment reduced as term already started).
Our values at Flying Fish studio
To create a warm & welcoming space to be yourself.

To respect everybody's individual needs.

To foster curiosity & a sense of wonder.

To encourage independence & responsibility through a carefully planned environment.

To build a culture based on honesty, cooperation & respect.
Testimonials
"I can safely say they were by far and away the best art class experience she's had. An absolutely brilliant child-led art club that helps them develop real skills whilst following their style of learning and interests. Hannah makes every effort so that the children feel completely at home - with delicious snacks, pets on tap and a very warm welcome. Highly recommended!"
- Jane (adult), Hope Valley, November 2018.
"You are always helpful, kind and talented. You have a very "bubbly" personality."
- Annie (child), December 2018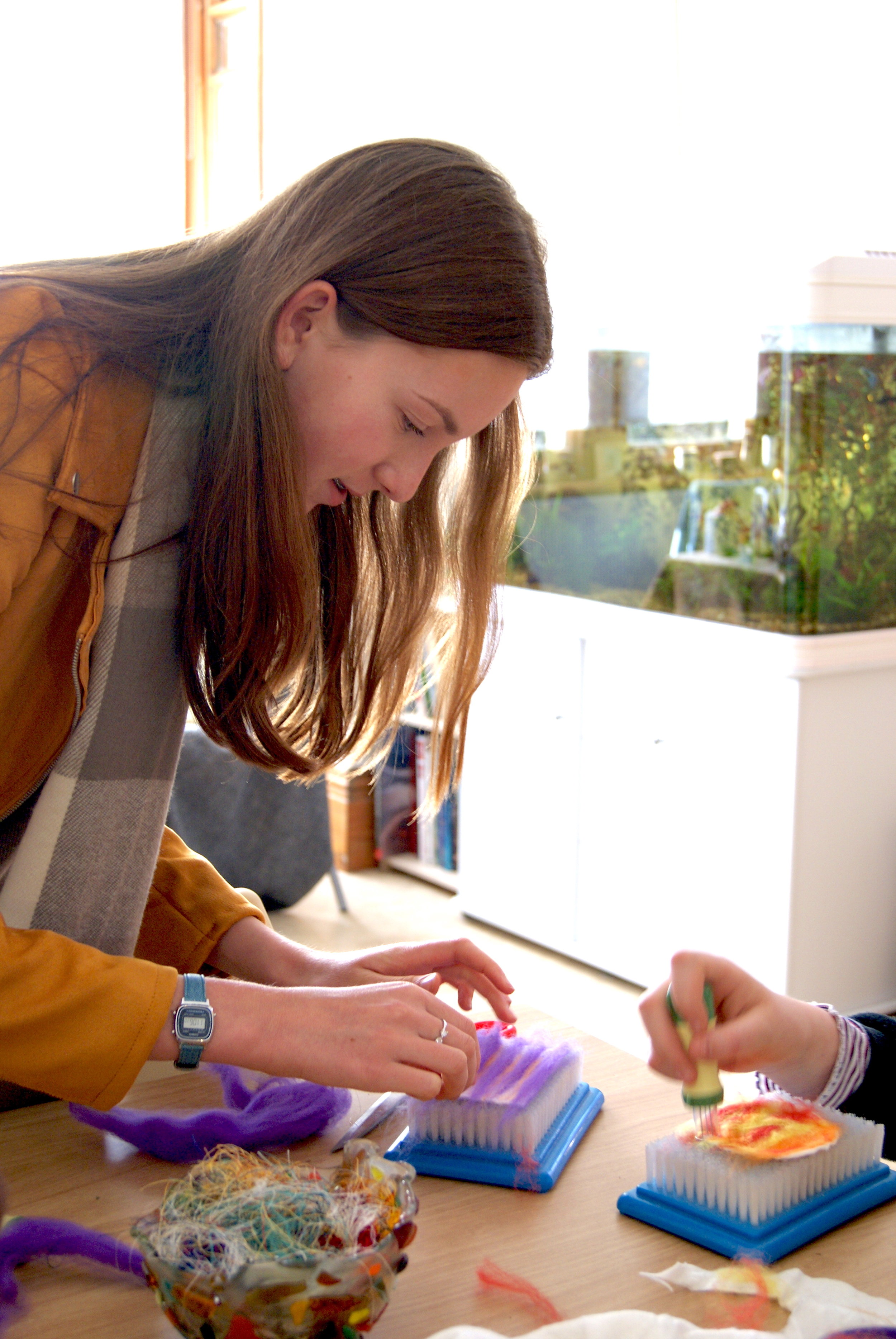 How do these workshops benefit young people?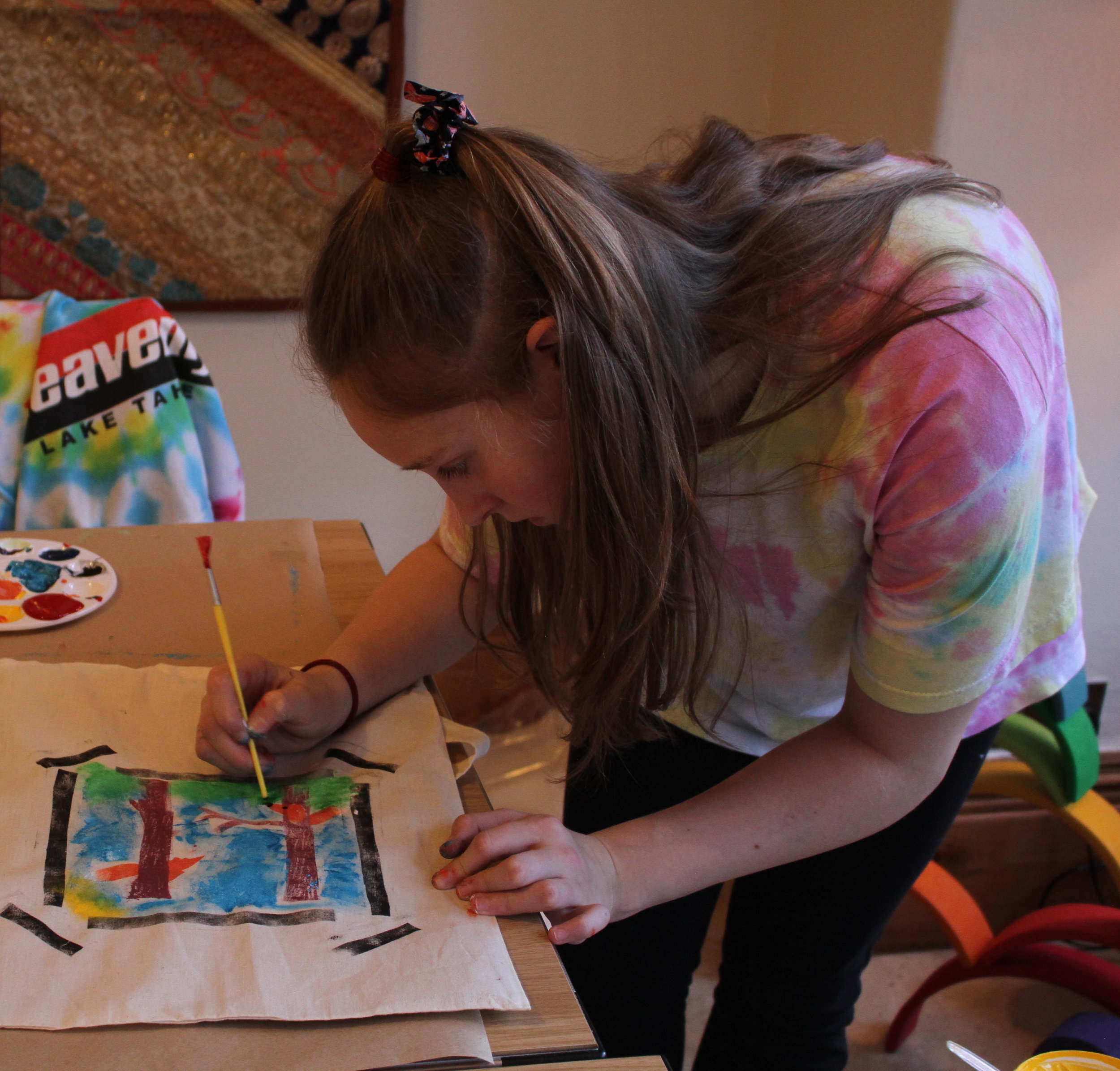 Art develops the ability to think outside the box. We have a "have a go" attitude to new ideas, where we are free to try things out and to make mistakes. This is essential in enabling individuals (and society!) to progress. Experiencing a wide variety of materials and techniques increases the possibilities of trying out new combinations and ideas.
Develops problem-solving abilities
At Flying Fish studio, we focus on open-ended, process-orientated art. This allows for an endless opportunity for making choices, developing independence, coming to conclusions and evaluating results. Children become more comfortable with uncertainty and remain flexible thinkers.
Provides people with the space to process the world and their emotions
Children absorb incredible amounts of new information each day; they need space to work through their thoughts, feelings and ideas. Art helps children to do so in a multifaceted way— in ways that words may not be able to do, or that may be more natural for them than words. I offer an environment where it is safe to experiment and create, where questions are encouraged, and children have access to the materials they need and enjoy.
Art can help create a common ground for children who don't know each other. It can help people of all ages, genders, and abilities, to connect with one another whilst engaging in a shared activity. As well as friendship, skills in cooperation are also built upon, through the sharing of ideas and resources.
Being surrounded by beauty, as well as the process of creating something beautiful, can be emotionally and spiritually enriching. A piece of artwork may convey beauty through the harmony of the physical elements within the object or through the purpose for which the object was created.